If you wish to have your Kohler stock or pulling engine tested on a dynamometer (dyno), please contact A-1 Miller's Performance Enterprises | 1501 W. Old Plank Rd. | Columbia, MO (Missouri) 65203-9136 USA |

Phone: 1-573-256-0313 (shop) | 1-573-881-7229 (cell). Please call Monday-Friday, except holidays, 9am to 5pm, Central time zone. If no answer, please try again later. (When speaking with Brian, please be patient because I stutter.) A-1 Miller's shop is open to the public from 9am to 5pm, including weekends, except holidays. Please call before coming so I'll be here waiting for your arrival.
Fax: 1-573-449-7347.
E-mail: pullingtractor@aol.com. Directions to our shop | 1501 West Old Plank Road, Columbia, MO - Google Maps or Map of 1501 West Old Plank Road, Columbia, MO by MapQuest. If you're the kind of person who don't trust delivery/shipping companies (mis)handling your high-dollar and fragile merchandise, you can always make the long drive to A-1 Miller's shop to personally drop off and/or pick up your engine, transaxle, tractor, etc. "The road to a friend's house (or shop) is never long."
---
A-1 Miller's Fully Computerized Stuska Water Brake Engine Dynamometer (Dyno) Service with DPM Data Logger Software!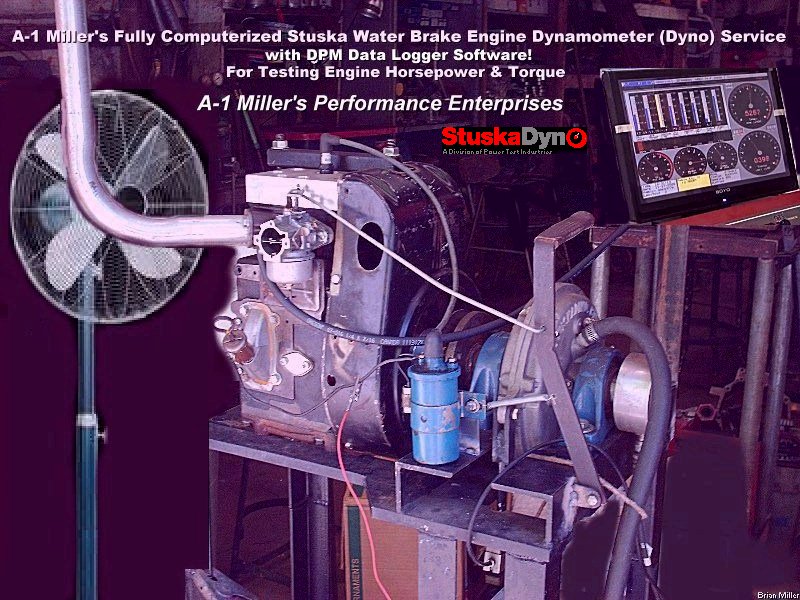 For performance testing engines up to 200hp at speeds up to 12,000 RPM. The only engine dyno service in Missouri for Kohler pulling engines! Now set up and fully operational, customers can rent dyno time, fine tune and make adjustments or changes to their engines for maximum horsepower and torque, and print-out the results so their tractor(s) will be truly competitive on the track.
Engine Dyno Rental Fee: $30.00 per hour run time from the moment the engine is started. No setup fee for Cub Cadet engines with a 3- or 6-pin/stud clutch driver. An adapter may need to be needed or fabricated for other makes and models of engines. Only engines with the narrow base oil pan can be tested. Engines with the wide base (tall) oil pan cannot be tested at this time.