Concerning the COVID-19 situation: A-1 Miller's Performance Enterprises is still in business and offering all the parts and services that's listed in this website. And being business is overwhelming and that we are short-handed working in a small shop, it may take longer than usual to process a big order. Please acknowledge your appreciation of the information in this website by making a donation through PayPal or to pay for an order.
A-1 Miller's Performance Enterprises
Offering Quality Products and Professional Workmanship at Reasonable Prices! With Brian Miller's Technology, Old Engines and Small Engine Equipment Will Never Become Obsolete, They'll Run Much Better.
Serving the Small Engine, Lawn & Garden, and Garden Tractor Pulling Community Since 1996. Where Science and Common Sense Come Together for Safety and Improved Engine/Tractor Performance
Please contact A-1 Miller's Performance Enterprises | 1501 W. Old Plank Rd. | Columbia, MO (Missouri) 65203-9136 USA |

Phone: 1-573-256-0313 (shop) | 1-573-881-7229 (cell; text or when leaving a voice message, please speak slowly and clearly). Please call Monday-Friday, except holidays, 9am to 5pm, Central time zone. If no answer, please try again later. (When speaking with Brian, please be patient because I stutter.)
E-mail: pullingtractor@aol.com. When you call, text, email or visit our shop, you will be dealing directly with the owner for the best customer service. A-1 Miller's shop is open to the public from 9am to 5pm, including weekends, except holidays. Please call before coming so I'll be here waiting for your arrival. Directions to our shop | 1501 West Old Plank Road, Columbia, MO - Google Maps or Map of 1501 West Old Plank Road, Columbia, MO by MapQuest. If you're the kind of person who don't trust delivery/shipping companies (mis)handling your high-dollar and fragile merchandise, you can make the long drive to A-1 Miller's shop to personally drop off and/or pick up your carburetor, clutch assembly, engine parts, entire engine, transaxle, transmission, entire garden tractor, etc. for rebuilding and/or repairing, or to purchase parts. "The road to a friend's house (or shop) is never long." (We're planning to relocate our business to other property with a bigger and better shop so we can hire more help and provide many more high quality parts and professional services.) We Ship to Canada and Worldwide

Prices are subject to change without notice.
A-1 Miller's Computerized Stuska Water Brake Engine Dynamometer (Dyno) Service with DPM Data Logger Software to Test Horsepower and Torque! | [Top of Page]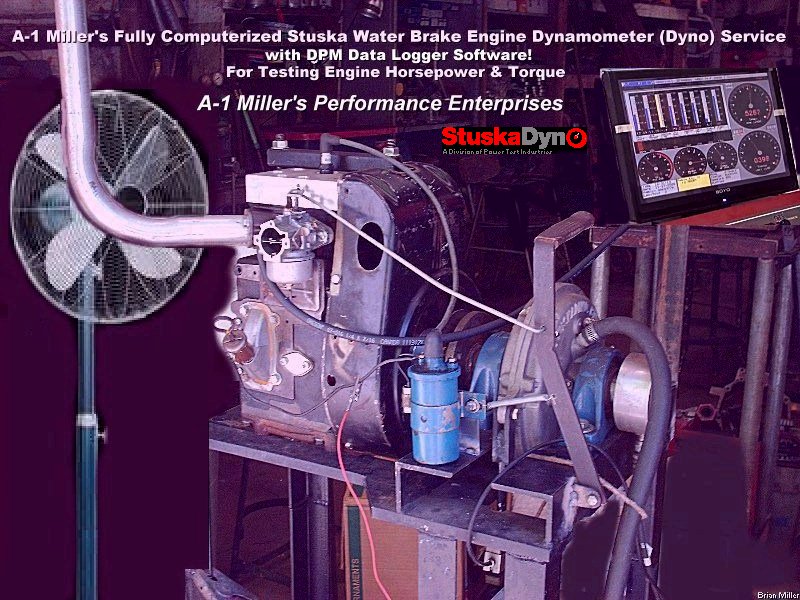 For performance testing of 10-16hp single cylinder Kohler stock or competition pulling engines at speeds up to 12,000 RPM. 100% accurate, customers can rent dyno time, fine tune and make adjustments or changes to their engines to gain maximum horsepower and torque, and print-out the results so their tractor(s) will be truly competitive on the track. With an engine dyno, the puller can adjust their engine to get maximum horsepower and torque, and gear their tractor appropriately to have an advantage over the competition. NOTE: A fresh-built engine may not produce full power until it's broke-in. This is when the valves wear-in with the seats to completely seal in the compression. The rings will likely hold the compression, but the valves may leak slightly until they wear into the seats. This is normal for all engines and may take several hours or pulls to happen, then the valves will be able to hold full compression. Lots of pullers tell A-1 Miller's after I've built their engines that it seems to pull stronger every time they pull it.
Engine Dyno Rental Fee: $50.00 per hour run time from the moment the engine is started. No setup fee for Cub Cadet engines with a 3- or 6-pin/stud clutch driver. An adapter may need to be needed or fabricated for other makes and models of engines. Only engines with the narrow base oil pan can be tested. Engines with the wide base (tall) oil pan cannot be tested at this time. [Return to Previous Section, Paragraph or Website]
---
Coming Soon - Detailed Illustrated Plans on How to Construct a Professional Pull-Back and Self-Propelled Garden Tractor Pulling Sled. FYI - I have lots of work to do in my shop and I work on my sled plans in my spare time. As soon as my plans with an inventory list of parts to use are perfected, I'll post the update in my websites with prices of the plans. Remember - Perfection takes time. If it's worth having, it's worth waiting for. Also, I plan to acquire a bigger shop and may build high quality garden tractor pulling sleds in the future to offer for sale. Please call 573-256-0313 (shop) or 573-881-7229 (cell; text or voice message), or email pullingtractor@aol.com if interested in purchasing the plans or a sled. - Brian Miller