GM 4-Pin HEI Electronic Ignition Control Module Wiring Connections/Diagram with the Cube-Shaped 3-Wire Inductive Proximity Sensor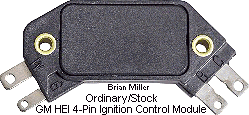 This ignition system operates with full 12 volts. UPDATED 8/8/17: In order for the ordinary/stock GM 4-pin HEI module allow the engine to accelerate at full speed, it must be used with the Cube-shaped 3-wire inductive proximity sensor, and can be used with virtually any ignition coil, regardless of the ohms resistance or voltage output, even with a suppression/carbon-core with a 4.8 ohm resistance spark plug wire and resistor spark plug gapped at .035". This concept revolutionizes the use of this small, compact and versatile module! This is a thoroughly tested, researched and proven reliable ignition system invented by Brian Miller for ordinary lawn & garden engines and competition pulling engines. IMPORTANT: The coil and/or module may burn up if the ignition switch is left on for more than 5 minutes with the engine not running.
Connect the Black wire on the sensor to the [G] terminal on the module.
Connect the Blue wire on the sensor to the [W] terminal on the module and to engine/chassis ground (battery negative (–) post). NOTE: The [W] terminal on the module does not need to be connected to anything, but the blue wire on the proximity sensor must be grounded.
Connect the ignition coil negative (–) terminal to the [C] terminal on the module. For competition pulling - if the grounding-type killswitch is used, connect the ungrounded wire from the killswitch to this terminal. Or for a generator engine, connect this terminal with a semiconductor rectifier diode to "excite" or temporarily energize the field windings in the generator.
Connect the Brown wire on the sensor to the [B] terminal on the module, and to the ignition coil positive (+) terminal and to the ignition switch (battery positive (+) post).
Mounting holes in the module body must be grounded to engine/chassis ground (battery negative (–) post). When mounting the GM 4-pin HEI module, always fasten it with dielectric, thermal or heat sink grease/paste on a clean, flat aluminum plate with plenty of fresh air circulation to dissipate the heat while in operation. (The module does NOT have a built-in timing retard.)
The cube-shaped proximity sensor has an LED (Light Emitting Diode) on the unit. If the proximity sensor is wired correctly, the LED will illuminate when in close proximity to the detectable target.
Compliments of Brian Miller